The Christopher Kennedy Compound is the premier design showhouse in Palm Springs. Each season, Christopher taps the country's top design talent to curate imaginative spaces that celebrate midcentury design. This year, Christopher asked Arteriors collaborator Celerie Kemble to design the dining room. Celerie faced the challenge head on, infusing her signature aesthetic into the space to create an ethereal setting perfect for entertaining. Read on for Celerie's best practices on dining design. Photography by Karyn Millett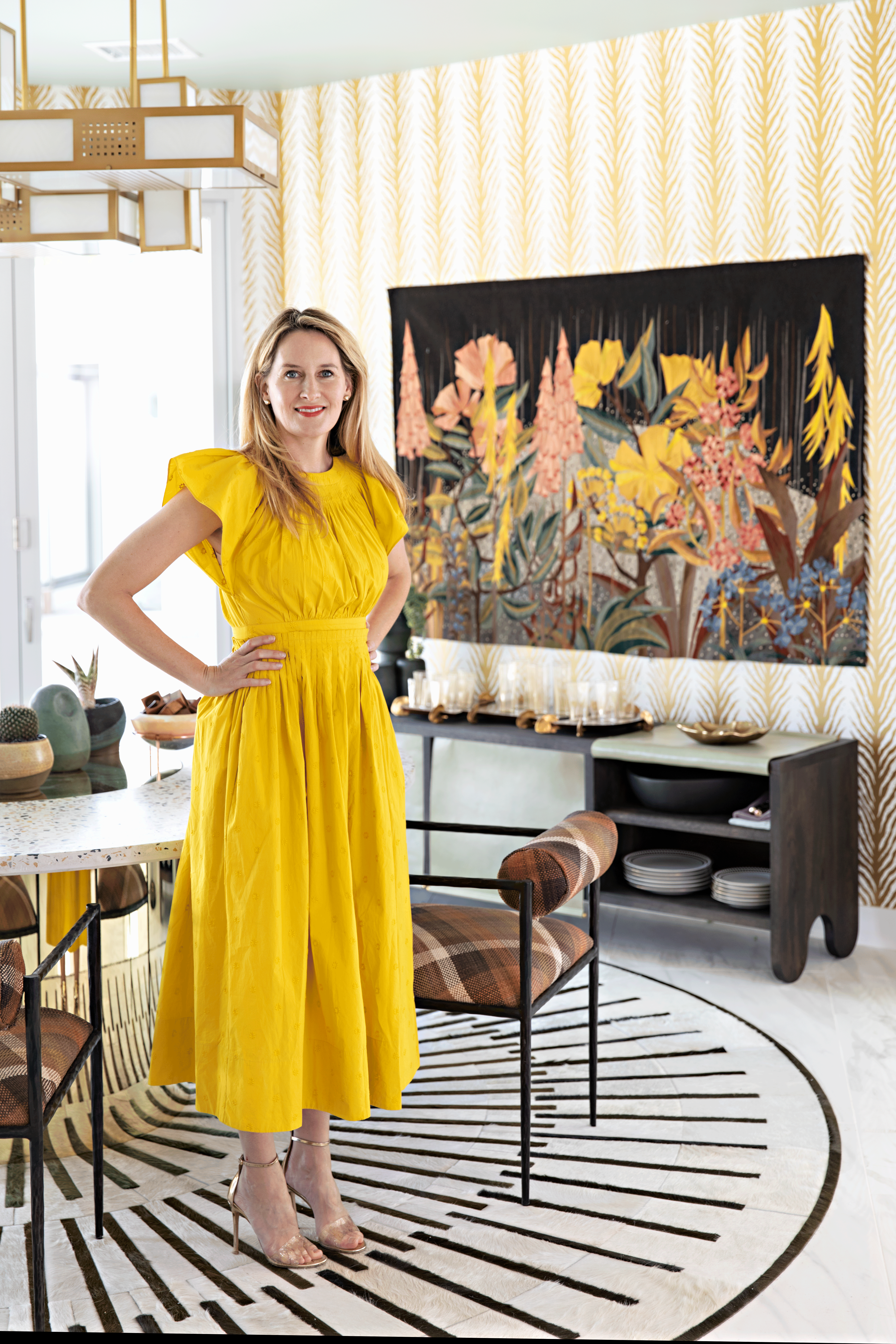 Q: WHAT was the starting point of inspiration for your room design?
My starting point was the color palette. Growing up in the tropics, the desert is not my natural habitat so I sought to bring water to the desert. The colors of the room are what I imagine might emerge after a desert rainstorm. The parched terrain would be carpeted in new growth. The end result is a room awash in golden hues and sagey greens with a few pops of desert florals.
Q: WHAT are the "must-have" elements of a well-designed dining room?
Every dining room needs three things: comfortable seating, flattering lighting, and places to display the accouterments of entertaining whether or not they are in use. Lighting is of paramount importance, because it sets the mood. I opted to use my own lights from Arteriors in this space. I designed these pieces to have perforations in the metal for a dappling effect. This creates a dimensional, dynamic light that makes guests look their most beautiful.
Q: Several of the pieces are from your collection for Arteriors. Did you design them with a certain function in mind?
I designed the Bisger Pendants and Sconces to be mixed and matched exactly as I am using them in this room. I hope that this will inspire designers to mix and match pendants in their own projects too.
Q: what is the most underappreciated element of a SUCCESSFUL dining room design?
Perhaps the most underappreciated element of a successful dining room is a light dimmer. The dimmer allows you to have control on mood, and it also allows you to cast your guests in the most flattering of light. A dimly lit dining room is a perfecter of complexions and an elixir of youth—in my mind, those features cannot be appreciated enough!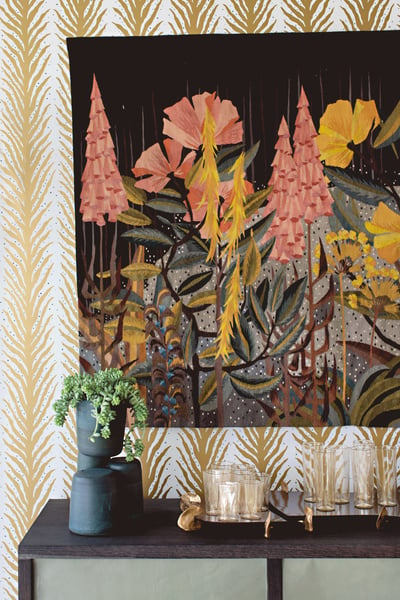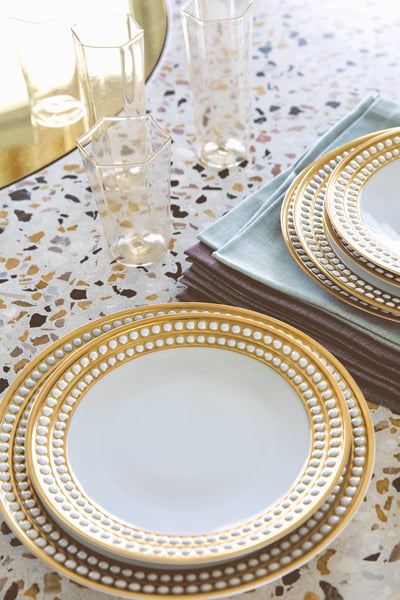 Q: when selecting lighting for a dining room, are there certain rules that should be followed?
I never consider rules in design as prescriptive, there are always exceptions. However, there are some general ideas that I use as a framework. For example, a chandelier often should be hung 36" above the surface of your dining table, and sconces should be hung at eye level, but only if you're like me and are very average in your height. I cannot recommend that to my tall (or short!) clients!
Q: WHAT IS YOUR FAVORITE ELEMENT OF PALM SPRINGS DESIGN & ARCHITECTURE?
I love how many of these Palm Springs houses were built to integrate the interior spaces with the exterior. These houses often had big sliding glass doors—when you open the doors the distinction between the indoors and outdoors blurs. The floor plan was often situated around a courtyard or pool—you can imagine this is an ideal recipe for throwing a party.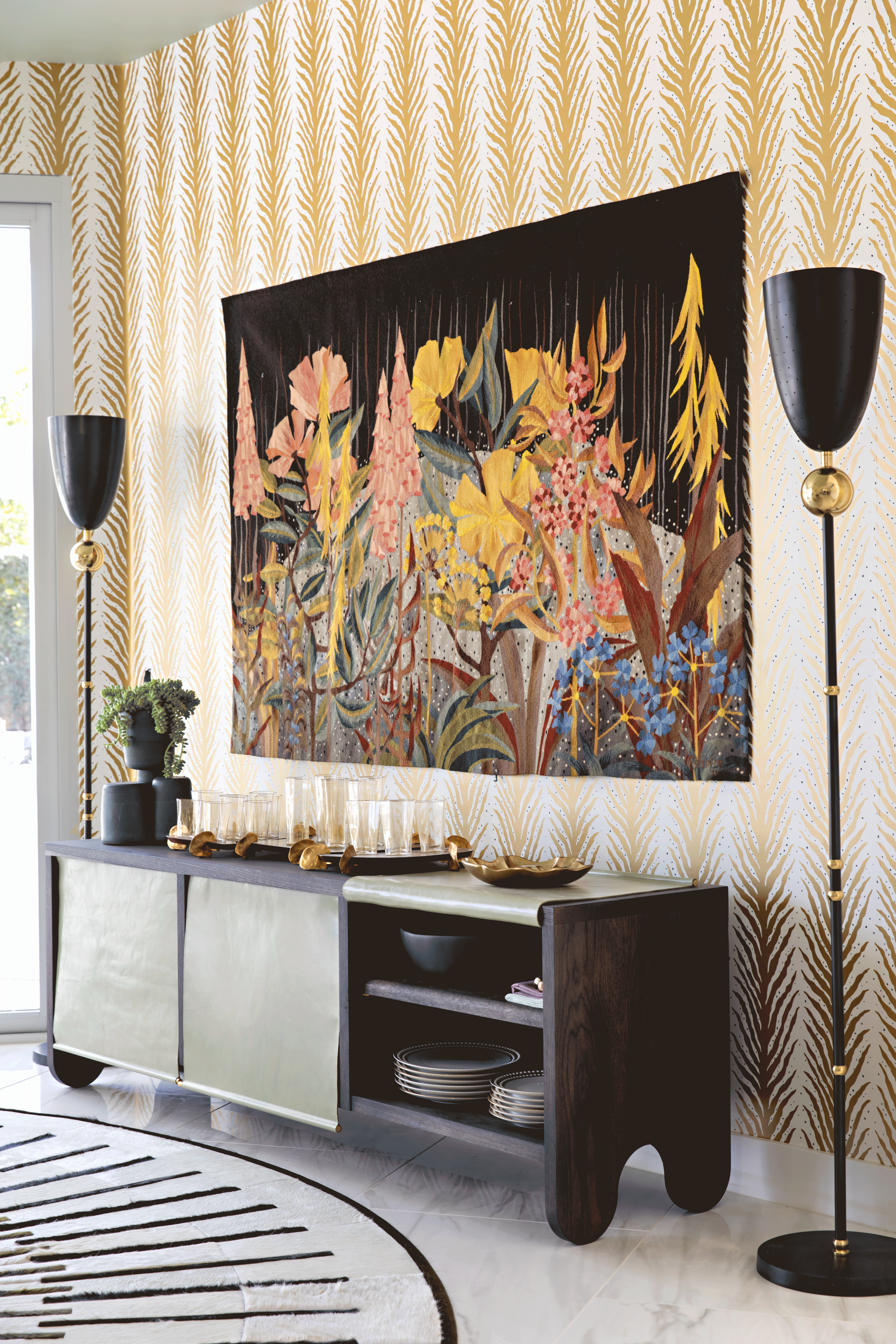 Q: are there certain colors that work best in a dining room?
I love to use custom designs from DeGornay, Gracie, or Fromenthal in a dining room because there are so many colors to pull from the walls. I also think the walls then become the art.
Q: what influence does midcentury modern design have on your work as an interior designer?
The use of midcentury in a project would be directed by the setting, the architecture, and the client. In the case of Palm Springs, midcentury design is so intrinsically connected to the setting that it feels very appropriate.
Q: WHY DO YOU THINK MIDCENTURY MODERN HAS CONTINUED TO HAVE SUCH AN INFLUENCE ON THE WORLD OF DESIGN?
I think the movement has had a mass appeal in recent years because so many of the shapes are clean and linear, and they blend in well with a variety of other styles.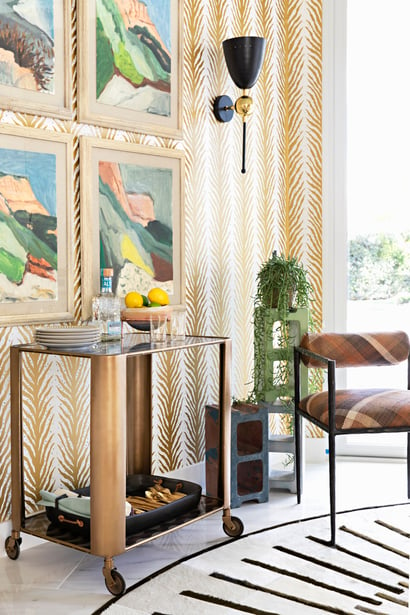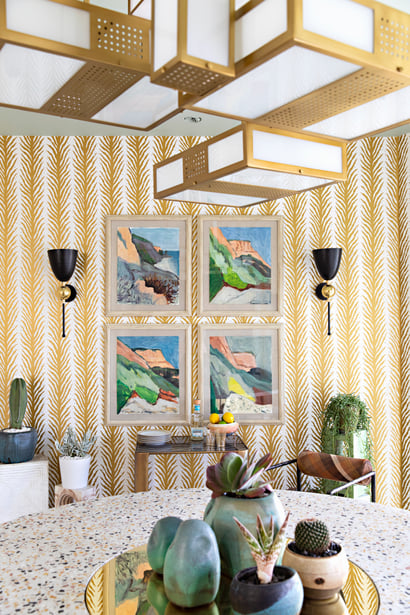 SOURCES
Wallpaper | Celerie Kemble for Schumacher, Creeping Fern in Gold // Rug | Kyle Bunting Rugs, Custom // Dining Table | CBM Design Group, Custom Dining Chairs | Arteriors, Barbana in COM // Dining Chair Fabric | Lance Leathers, Woven Argyle in Avocado + Moore & Giles Doral in Praline Console | CBM Design Group, Custom // Console Leather | Moore & Giles, Barrington Seafoam // Floor Lamp | Celerie Kemble for Arteriors, Astral Floor Lamp // Pendants | Celerie Kemble for Arteriors, Bisger Pendants & Sconces // Sconces | Celerie Kemble for Arteriors, Astral Sconce Bar Cart | Celerie Kemble for Arteriors, Tinsley Bar Cart // Paint | Dunn Edwards, Belize Green // Ceramic Vessels | David Haskell, from Donzella Gallery // Vintage Tapestry | Hollywood at Home // Table Plateau | Achille Salvagni, from Dragonette // Landscape Paintings | Harbinger Concrete Forms | Concrete Cat, from Harbinger // Ceramic Platform | Harbinger // Glassware & Plates | L'Objet // Napkins | Matouk Entertaining Accessories | Tray, Servingware, Flatware, from TableArt
get THE LOOK