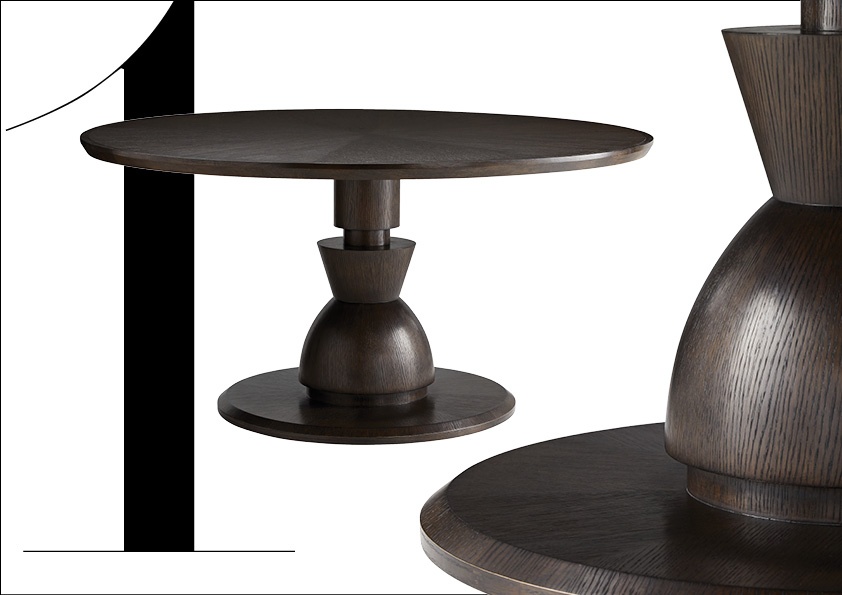 MAHOUN DINING TABLE // When it comes to fine dining, this table takes the cake. The entire piece is expertly crafted from oak, elegantly finished in a deep umber veneer with rich wood textures. The pillar design was inspired by the Modernist aesthetic of Brancusi, featuring stacked geometrics and craftsman-style turned details. Also stunning is the radial pattern in the tabletop, which makes this dining or entry table an even bolder statement piece.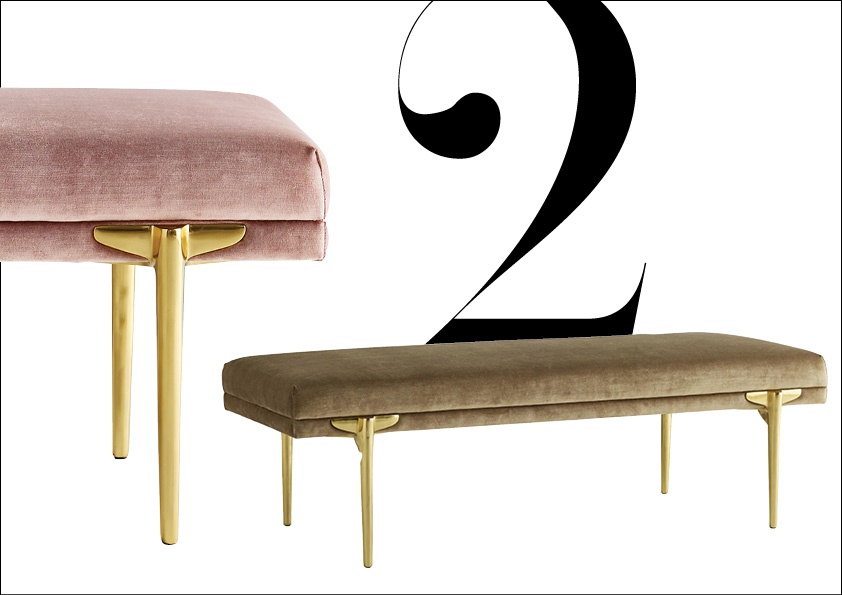 ANDREA BENCH // Every detail in this oversized bench speaks to its intrinsic beauty and glamour. A wide, plush seat upholstered in supple velvet gives you a comfortable place to rest and custom-crafted antique brass finished legs give it sleek looks. It's almost art deco in its level of sophistication and elegance. Also available in Muslin.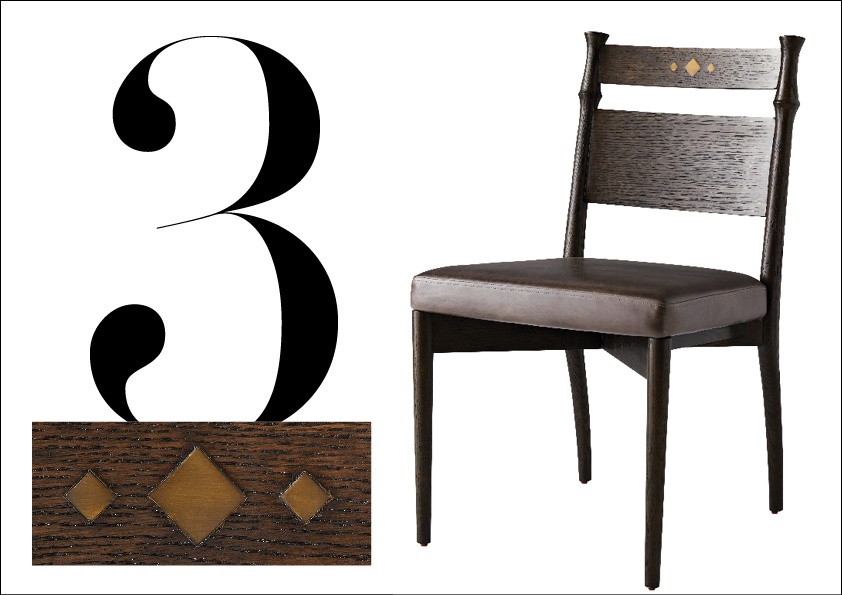 NEELEY DINING CHAIR // Craftsman style handiwork and modern elegance make a beautiful collaboration in this dynamic chair. It's made entirely from solid oak and is finished in a dark umber veneer that has wonderful wood textures you can see and feel. Turned details, a coal-toned leather seat and brass inlay in the top rail all bring a sense of sophistication and edge to the design. Also comes in muslin.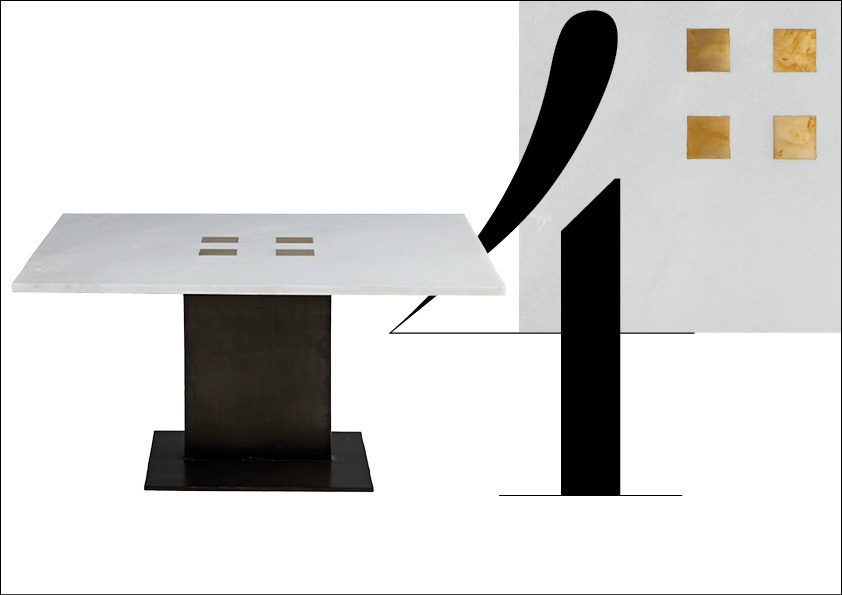 OHARA COCKTAIL TABLE // Adorned by four inlaid polished brass squares into white marble. This design comes to life by juxtaposing its clean surface with a raw iron base.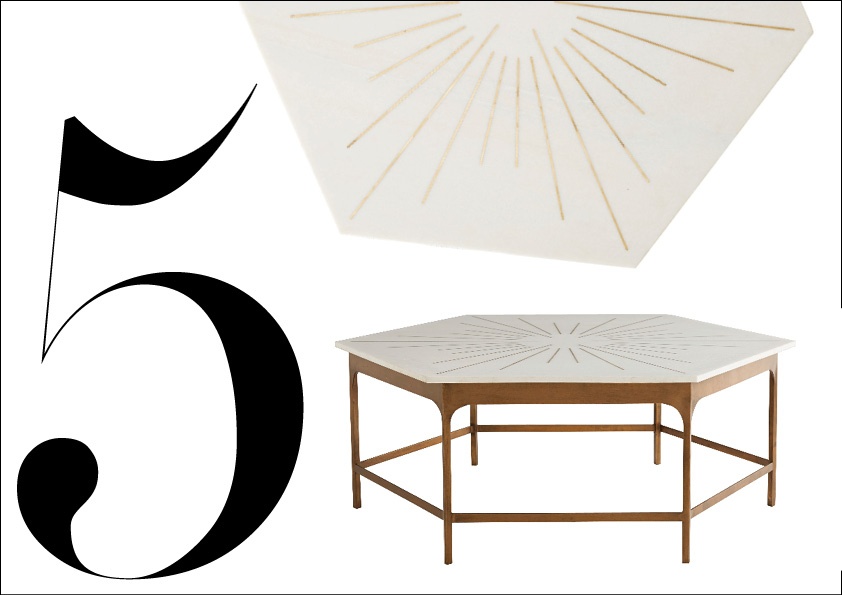 MAE COCKTAIL TABLE // This exquisite cocktail table is like bringing the brilliance of the sun into a space. Honed hexagonal white marble is inlaid with 30 slices of polished brass, forming a shining sunburst design that is elegant and oh-so-sophisticated. It's truly a feat of daring craftsmanship. The six-leg base is smithed from iron and finished in an antique brass finish, with a silhouette that has a slightly Moroccan feel. Also available as an end table.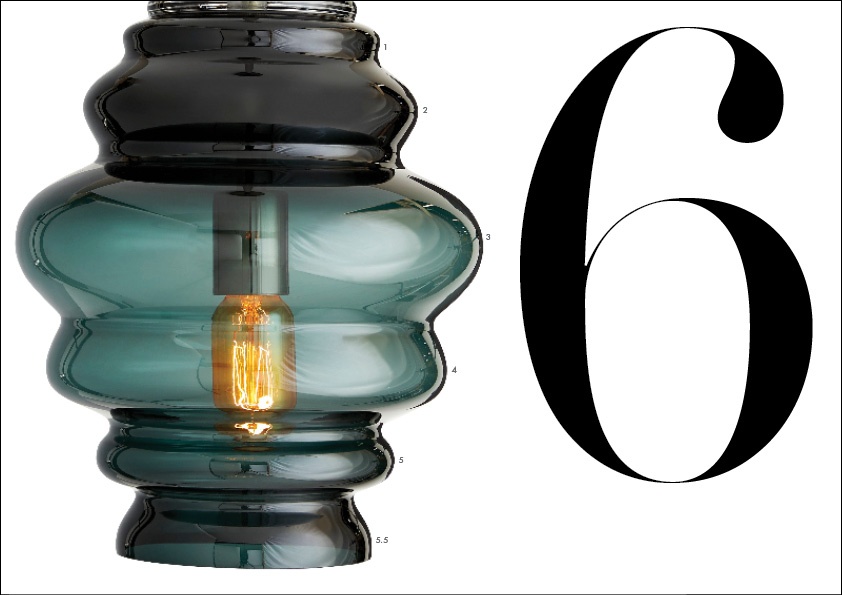 NATASHA PENDANT // Inspired by vintage lanterns of the early 20th century, the Natasha Pendant has given the form updated style. Hand-blown smoky teal glass is crafted with wonderfully modern curves, hanging from a brown-nickel finished stainless steel stem. The glass shade filters the light, so the downcast light is so dramatic. Photographed with a radio bulb. Also available in clear glass. Approved for use in covered outdoor areas.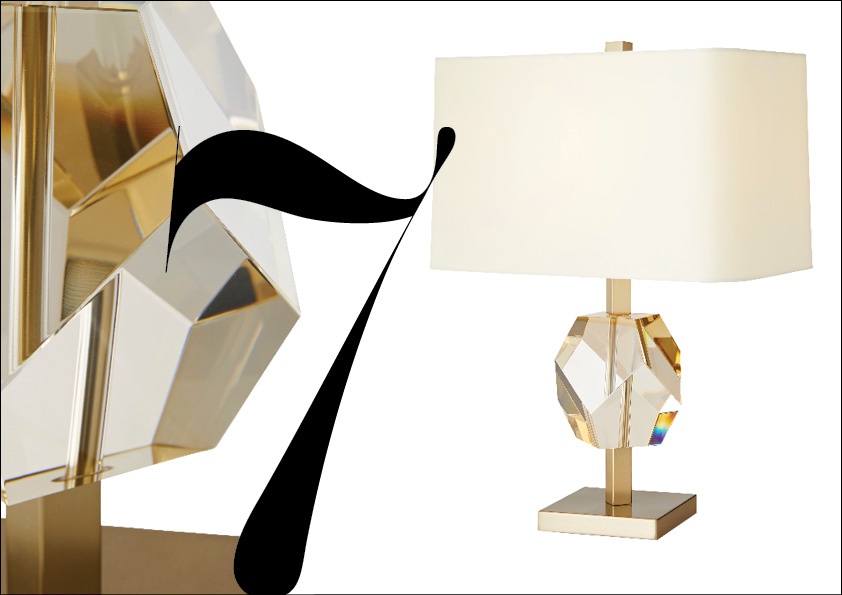 JAKE LAMP // Champagne crystal and sharp angles create a prismatic effect on this petite lamp. The crystal prisms will catch the soft light dance within the piece, enhancing all the beautiful edges. Topped with a rectangular microfiber shade in ivory with cotton lining and a pale brass finished finial. Also available as the Jake Vase.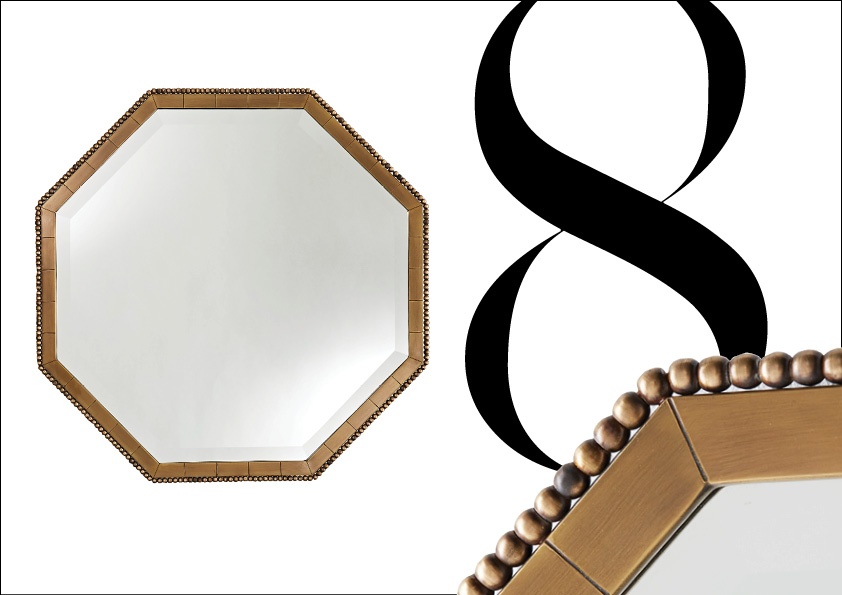 NICOLE MIRROR // This mirror is the design equivalent to adding diamonds to wear with your evening gown. Its pure and classic elegance is what makes it stunning, with details including an antique brass finish, refined beaded trim and etched line carvings. This beauty hangs both vertically or diagonally to fit the look you're aiming for. Mirror is trimmed with a bevel edge. Hangs on a security cleat attachment. Also comes in vintage silver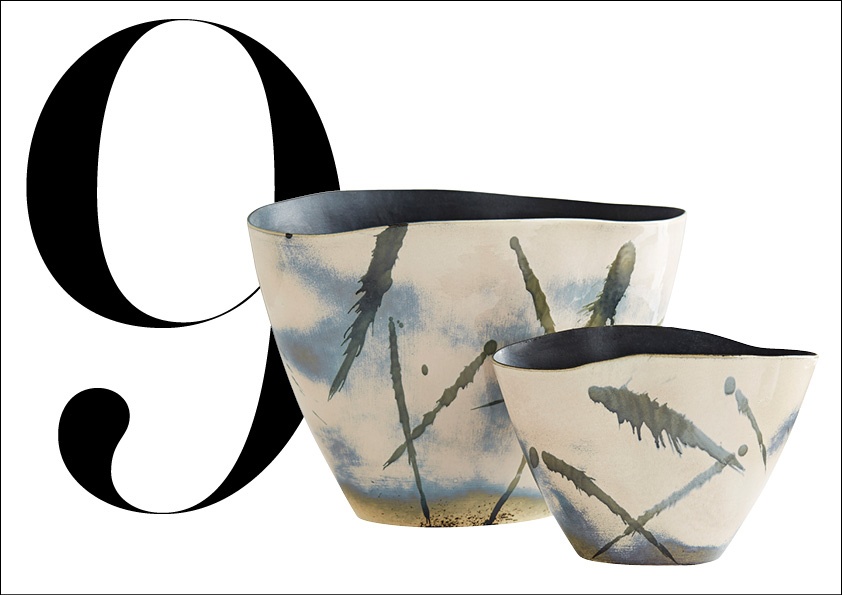 NEWBERRY VASES // No matter your interpretation of this handsome vase, it stands as a work of art any way you look at it. Incredibly fine porcelain is formed to create a uniquely crafted horizon and the hand-painted abstract glaze gives it a shibori-dyed effect. Water tight with a reactive glaze. Handcrafted details and glaze finish may vary.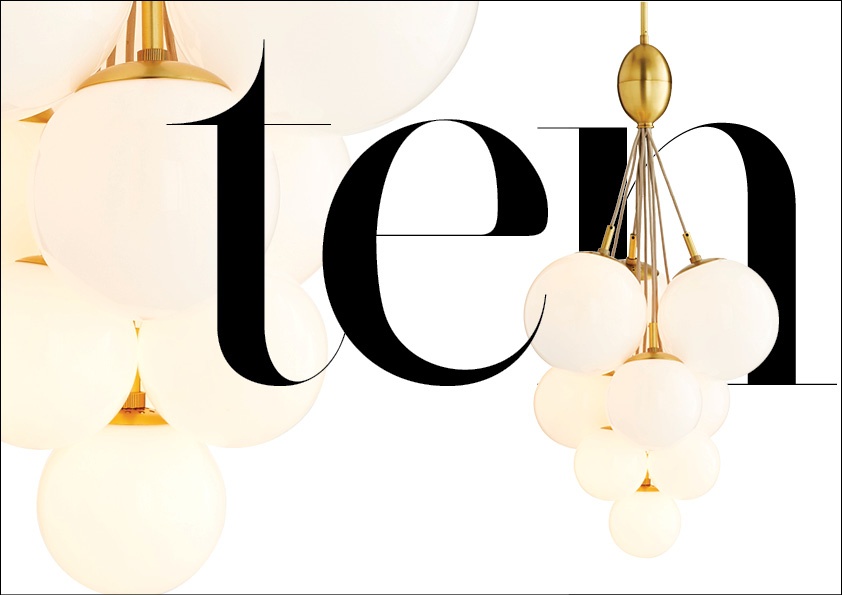 ORCHARD CHANDELIER // A cluster of TEN globes in opal glass suspends to create dramatic lighting and visual interest. Each light is attached to a taupe cloth cord that blends in with the antique-brass finished steel frame, descending from a single slender stem. Fitted with sockets for candelabra bulbs, the glow it casts is romantic and warm. Approved for use in covered outdoor areas.