Arteriors, a leading provider of lighting, furniture and accessories to residential and commercial customers, announces its latest licensing partnership with celebrated San Francisco-based interior designer, Jay Jeffers.
The Jay Jeffers Capsule Collection for Arteriors will feature an assortment of accessories designed for home entertaining, all of which will reflect Jeffers' signature style and distinct design sensibility. Inspired by his own creative, yet impeccable way of entertaining, the pieces are reflective of both fashion and nature. The collection will include barware, trays, and the perfect accent tables for drinks.
"Jay is a distinguished interior designer with a unique flair that we can't wait to add to the Arteriors offering," stated Mark Moussa, Founder and Creative Director of Arteriors. "He brings an enormous amount of excitement to his design process and his fresh and adventurous aesthetic is a great fit for the Arteriors brand." Jeffers added, "I am thrilled to be working with Arteriors and honored to be joining their group of esteemed guest designers."
Jay Jeffers is the first designer to create a capsule collection for Arteriors that focuses on a specific theme. Other designer partnerships include Barry Dixon, Laura Kirar, and Windsor Smith.
The Jay Jeffers Capsule Collection will be introduced in late 2015.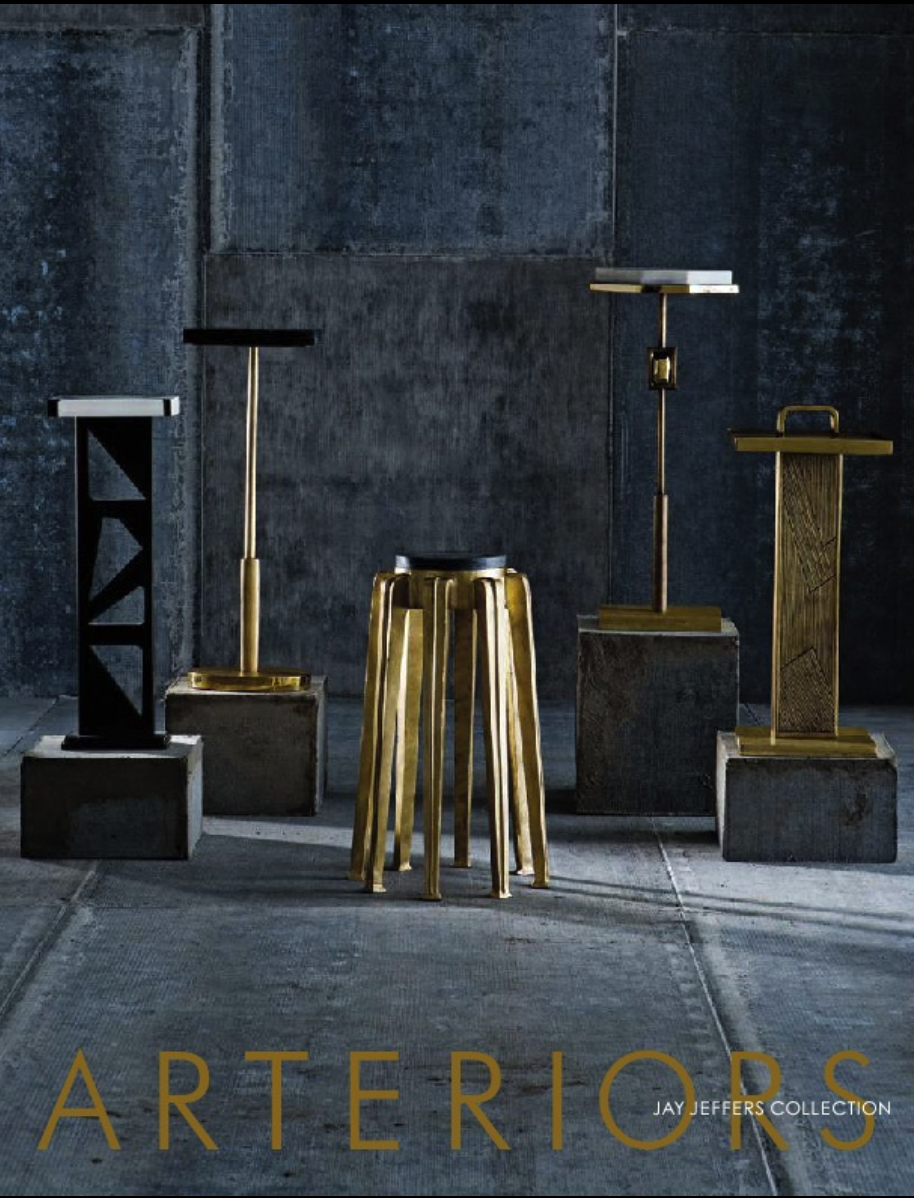 ---
About Arteriors
Founded by Mark Moussa in 1987, Arteriors is a Dallas-based company that specializes in lighting, furniture, and decorative accessories that appeal to the design-trade clientele. The company collaborates with experienced artisans and manufacturers around the world producing a full spectrum of styles in luxury materials and finishes. Arteriors has trade-only showrooms in Dallas, New York City, Atlanta, High Point, N.C., and stores in Los Angeles, California in the La Cienega Design District and in Dallas, Texas in the Dallas Design District.
About Jay Jeffers
Jay Jeffers is recognized as one of his generation's most dynamic designers. Named by ELLE DECOR to its A-List of the country's top interior designers, Jay brings his signature cool, collected style to every project. Since founding the firm in 1999, he has designed homes in San Francisco, wine country, Tahoe, New York, Los Angeles and beyond. In 2013, Ritz-Carlton tapped Jay to design signature spaces for the Ritz-Carlton Residences Lake Tahoe. Jay's work has been featured in showhouses, books and publications worldwide. In 2014, Rizzoli published his debut book, Jay Jeffers: Collected Cool.
Jay also operates two retail destinations, Cavalier by Jay Jeffers and Cavalier@COUP. True to a code that celebrates all that is singular and luxurious, Cavalier showcases carefully curated new, vintage and bespoke pieces. It is the sole stockist for a limited‐edition selection of home furnishings and accessories created in partnership with designers from around the world. For more information, please visit www.jeffersdesigngroup.com and http://www.cavaliergoods.com.