Chicago-based designer Frank Ponterio approaches each project with impeccable restraint and intention, employing exquisite craftsmanship to deliver awe-inducing interiors that encourage conversation. In his debut collection for Arteriors, Frank travels between old world and new, seamlessly blending architectural influences drawn from his family's rich Italian history with an astute precision that could only be attributed to a 25-year career. A delicate dichotomy unfolds—metal and hand-woven rope, embossed leather and hammered brass, polished bronze, vellum and hand etching—all designed for a life well-lived and shared with others.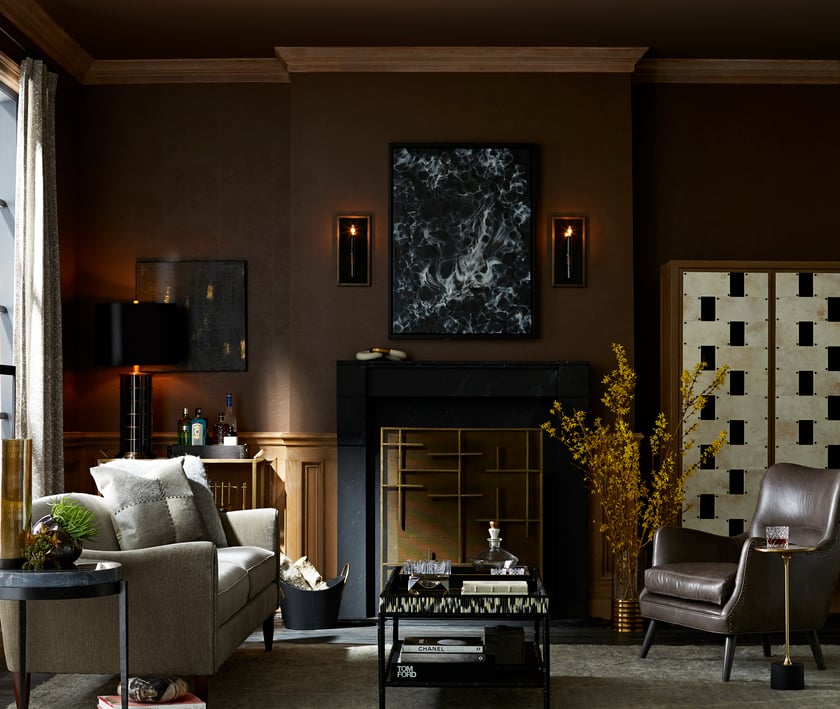 inspired by: heritage + HISTORY
"My Italian roots instilled a deep appreciation for craftsmanship and architecture. I've taken that passion and paired it with modern materials and references drawn from my body of work."—Frank Ponterio The Salotto Cabinet is the crown jewel of the entire collection. The ivory vellum panels were inspired by a pair of bronze doors at Villa Necchi in Milan. Originally designed to guide air through a solarium, the reinterpreted cut-outs are purely decorative, offering a glimpse of the beautifully-layered contents within.
Photograph courtesy of the Fondo Ambiente Italiano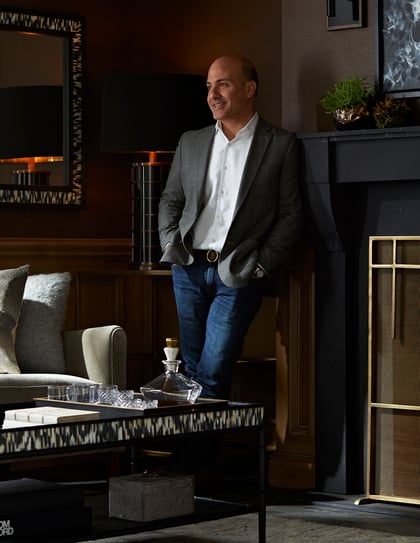 "I LOVE TO ENTERTAIN AND MAKE PEOPLE FEEL COMFORTABLE IN OUR HOME...
IT'S THE IDEA THAT A GUEST CAN COME OVER AND GRAB WHATEVER BOTTLE OF
WINE THEY WANT, START WHATEVER CONVERSATION THEY'D LIKE AND STAY UNTIL THE SUN COMES UP."
design that packs a punch

For Frank, art is in the details. The Joey Tray perfectly captures his vision for exquisite craftsmanship and thought-provoking design. Brass knuckle handles are totally unexpected, finished in a warm antique brass that pops against the black leather. The Alek series is another defining design within the collection. "We paired faux quill detailing with black oak. I've been fortunate to have been exposed to many exotic materials over my years as a designer and love when I can infuse personal references that feel bespoke."
get the look
Explore our complete Guest Designer collections